ARTSCOUTONE – CONTEMPORARY ART IN MANNHEIM 2009-10

A Survey Exhibition on Contemporary Art from the Rhine-Neckar Region with site specific works from 100 artists in Mannheim at 17 locations from the industrial area to the castle
November 2009 – March 2010
Invitation & Flyer
Jan Ahrens    Petra Arnold    Rudi Baerwind   Nicolas Bärnreuther    Ronnie Bass    Shahab Gabriel Behzumi     Christian Berg    Paul Berger-Bergner   Carolina Brack    Anina Brisolla   Ralf Brück    Rebekka Brunke   Eric Carstensen    Werner Degreif    Sabine Dehnel    Margret Eicher    Immanuel Eiselstein    Niki Elbe    Alfred Emmerich    Holger Endres    Julian Fickler   Kerstin Fischer    Roger Fritz    Patrycja German    Misha Gerweck   Isabelle Graeff    Robert Häusser   Jens Hafner   Horst Hamann   Joseph Heeg    Alexander Heikel     Barbara Hindahl    Ulli Hök   Frank Hoffmann   Myriam Holme   Zhu Hong   Alexander Horn   Ruth Hutter    Björn Knapp    Jürgen Knapp    Kathleen Knauer    Martin Knauf    Stefan Köhler   Sabine Kress     Skafte Kuhn   Thomas Kutschker    Ana Laibach    Georg Lenz     Thomas Lüer    Jonas Lundius     Antonios Malamos    David Maras    Olivier Pol Michel    Torsten Mitsch   Moohee    Tomomi Morishima    Philipp Morlock     Arnika Müll    Björn Müller    Ingrid Mwangi & Robert Hutter    Thomas Neger    Susanne Neiß    Norbert Nüssle    Andrea Ostermeyer    Katarzyna Paruszewska    Sarah Peters   Harald Priem    Klaus Richter     Karl Rödel    Rolf Ruck    Janet Ruppert    Sophie Sanitvongs    Wolfgang Sautermeister    Jack Savant    Peter Schlör    Peter Schnatz    Rolf Schneider    Tilo Schwarz    Karl Schwarzenberg    Christian Schwarzwald    Wenzel Seibert    Inock Kim Seifert     Jutta Steudle    Jan Stieding    Fritz Stier     Janos Sugar    Maria Tackmann    Simon Täubert    Luigi Toscano    Markus Vater    Tanja Vetter    Konstantin Voit    Michael Volkmer    Jörg Wagner     Andreas Weber    Marcel Weber    Olga Weimer    Andreas Wolf    Franziska Wolff    Lisa Wolf    Hüseyin Yerlikaya    Andreas Zidek   Egon Zippel    Annette Zobel.

Press Meeting
Press Release
artscout

one
Catalog Introduction into Contemporary Art in Mannheim 2009/2010
Liebe Freunde der Zeitgenössischen Kunst,
die Stadt Mannheim als größte Stadt in der Metropolregion Rhein-Neckar hat sich zum Ziel gesetzt, den Standort zu einem Kulturraum zu entwickeln, der im Bereich der zeitgenössischen Künste deutliche Akzente setzt. "artscout
one

" setzt genau an dieser Stelle ein wichtiges Zeichen: an 17 Standorten, sogenannten offsites, die auf einem Parcours zwischen der Industriestraße und dem Schloss liegen, werden Werke von 90 Künstlern aus der Region und anderen Städten gezeigt. Ihre Werke wurden für die unterschiedlichen temporär nutzbaren städtischen und privaten Liegenschaften ausgesucht oder neu konzipiert. Unter inhaltlichen und ausdrucksbezogenen Aspekten werden Werke von zwei oder mehreren Künstlern zu dialogischen Werkgruppen zusammengeführt. Zu sehen sind Bilder, Plastiken, Zeichnungen, Objekte, Raum- & Videoinstallationen sowie kontextbezogene Werkformen, die sich ästhetisch oder inhaltlich mit Fragen der Gegenwart auseinandersetzen.
Neben diesen kuratierten Standorten möchte artscout
one

auf eine Reihe weiterer 'kultureller Mikrokosmen' hinweisen, die ebenfalls entlang des Ausstellungsparcours' liegen. Sie sind den unterschiedlichsten Bereichen der öffentlichen oder privaten Lebens-, Kommunikations- und Veranstaltungskultur Mannheims zuzuordnen, wie etwa dem Theater, der Galerieszene, der Club- und Eventkultur oder der Gastronomie. Viele dieser Standorte sind Treffpunkte von Studenten, Künstlern oder anderen kulturellen Persönlichkeiten aus der Metropolregion.
artscout
one

will Bürger und Besucher Mannheims zu einem Rundgang durch teils bekannte, teils unbekannte Areale und Gebäude im Stadtraum einladen, sie auf eine Entdeckungsreise in die oft verborgene Welt der zeitgenössischen Kunst mitnehmen und ihnen Dialoge mit Künstlern, Kuratoren und Sammlern ermöglichen. Junge artscouts führen die Besucher durch die Ausstellung.
artscoutone ist ein Projekt des Kulturamtes der Stadt Mannheim, initiiert, kuratiert und organisiert von Rolf Lauter. Es entsteht in enger Zusammenarbeit mit den beteiligten Künstlern. Die Ausstellung wird mit Förderern realisiert, welche sich in besonderer Weise der Gegenwartskunst und den Künstlern verpflichtet fühlen.
Darüber hinaus soll das Modell der 'Künstler-Patenschaften' den Dialog zwischen Künstlern und Bürgern fördern. Die Künstler-Paten setzen sich jeweils für einen Künstler ein und unterstützen auf verschiedene Art und Weise die zu realisierenden Werkpräsentationen, woraus sich im Idealfall eine längerfristige wechselseitig wirksame Partnerschaft entwickeln kann.
Mit diesem Pilotprojekt möchte die Stadt Mannheim zum Einen deutlich machen, dass sie den Künstlern der Region ein Forum bieten möchte, das bei Erfolg möglichst in rhythmischer Folge weitergeführt werden soll, zum Anderen soll damit die Diskussion um die Gegenwartskunst und die Wahrnehmung des "Hier und Jetzt" im Sinne von Walter Benjamin angeregt werden, um den in Gang gesetzten Prozess der Veränderung unserer Stadt positiv zu befördern.
Den zahlreichen beteiligten Künstlern, Förderern, Künstlerpaten und Unterstützern sei ausdrücklich gedankt. Dank für ihr Engagement für dieses Projekt gilt ebenso dem artscout-Team und allen involvierten städtischen Fachbereichen.
Dr. Rolf Lauter
Exhibition Spaces & Opening: 
Alte Tabakgesellschaft, Industriestrasse Mannheim
Exhibition Spaces & Opening:   Grosse Lagerhalle Industriestrasse
Further Locations

See also Website:
http://artlabheidelberg.com/artscoutone.html
Videos:
Obermeier TV @ Galerie Strümpfe Mannheim: Interview with Dr. Rolf Lauter artscout

one

: an exhibition parcours from industrial area to the 

castle, Mannheim 2009 / 2010. Curator: Dr. Rolf Lauter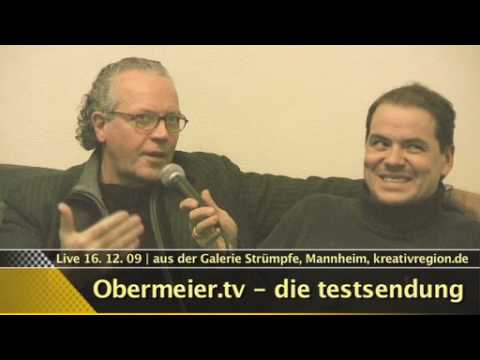 artscout

one

: an exhibition parcours from industrial area to the castle, 

Mannheim 2009 / 2010. Curator: Dr. Rolf Lauter. 

Trailer by Mario Conte
artscout

one

: an exhibition parcours from industrial 

area to the castle, Mannheim 2009 / 2010. Artist interviews. Curator: Dr. Rolf Lauter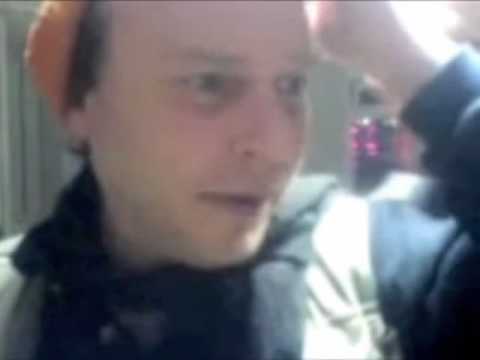 Texts & Concepts 2009
Art in the City I:    Aktuelle künstlerische Positionen in Mannheim.  Concept March 2009
Art in the City ist das erste Ausstellungsprojekt seiner Art in der Stadt Mannheim. Künstler aus der Region sowie aus anderen Städten wurden eingeladen, Werke für unterschiedliche temporär nutzbare städtische und private Liegenschaften – OffSites – auszuwählen oder zu konzipieren. Gezeigt werden Bilder, Zeichnungen, Plastiken, Objekte, Raum- und Video-Installationen sowie kontextbezogene Werkformen, die eine inhaltliche Beziehung zu den jeweiligen Räumen eingehen.
Mit Art in the City wollen wir Bürger und Besucher der Stadt zu einem Rundgang durch teils bekannte, teils unbekannte Areale und Architekturen im Stadtraum einladen, sie auf eine Entdeckungsreise in die oft verborgene Welt der zeitgenössischen Kunst mitnehmen und ihnen Dialoge mit Künstlern, Kuratoren und Sammlern ermöglichen.
Art in the City ist ein Gemeinschaftsprojekt von Kulturamt Mannheim, den beteiligten Künstlern, einer Reihe von Paten sowie einer Gruppe von Mäzenen, die sich in besonderer Weise der Förderung der Gegenwartskunst verpflichtet fühlen.
Mit diesem Projekt wollen wir der zeitgenössischen Kunst in der Metropolregion Rhein-Neckar eine temporäre Plattform ermöglichen, die in rhythmischem Wechsel jeweils aktuelle künstlerische Positionen, bildnerische Innovationen und inhaltliche Konzeptionen vorstellt. Die zukünftigen Ausstellungsprojekte werden dann von einem Gastkurator realisiert, um stets neue Brücken zwischen der Szene Mannheim und anderen Künstlern herzustellen.
Rolf Lauter
Art in the City I – Konzeptpapier 2, 31.03.2009 – OffSpaces
1.   Kommunikation über Kunst / Kultur in die Stadt tragen à Kommunikation mit den Bürgern
2.  Ortsspezifische / auf Kontext eingehende künstlerische Auseinandersetzung mit Gesellschaft, Urbanität, etc.
3.  Konzept aus Standorten, die einen Rundgang ergeben =  "OffSpaces"
OffSpaces
= Räume, die nicht im Rahmen von institutionellen Bereichen positioniert sind à außerhalb der institutionellen Kultur. Dadurch entsteht ein sehr enger Dialog mit den Künstlern.
= in temporär nutzbaren Liegenschaften eingerichtete Ausstellungsräume, die sich einer Institutionalisierung verweigern und damit gleichzeitig einen direkten Kontakt zwischen Publikum und Künstler ermöglichen.
= im positiven Sinne "Erlebniskultur"    à Kultur wird zum Erlebnis!!!
= nicht-institutionelle, teil-kommerzielle Ausstellungsräume, in denen Künstler, Kurator, Galerie und Kulturinstitutionen in einer neuen Art und Weise zusammenarbeiten.
= angedacht ist, dass Künstler nicht nur Kunst präsentieren sondern auch verkaufen – ein Teil des Gewinns geht in einen speziellen Topf, ein Teil an die Galerien, etc. Dadurch kann ein neues Fördermodell der Künste entstehen à Art von "Zwischenmacht" zwischen Künstlern, Galerien, Kulturinstitutionen, Kurator und Publikum.
= als Kulturprojekt der Projektgruppe ArtAdvisor werden die Offspaces im Stadtraum in der Weise positioniert, dass in der Nähe jeweils andere kulturelle Mikrokosmen vorhanden sind.
Beispiele:
Quadrate / Jungbusch
Galerie der Künste E5, Cafe Prag, Aschberg E3 (Architektenbüro mit Ausstellungen), REM, Edition Panorama (Galerie, Verlag) G7, Frauenkulturhaus G7 (Ausstellungen), Jungbuschstraße: Strümpfeladen und weitere Galerien, Zeitraumexit, "OffSpace1", Popakademie, Hafenstrand.
à Im Kontext dieses Areals wollen wir "OffSpace1" (Galerie der Künstler/Ausstellungsort der Künstler/Atelierhaus) einrichten.
Neckarstadt Mitte
Areal um den Alten Messplatz mit Alte Feuerwache, Peng! und mehreren Künstlerateliers. In diesem Kontext könnte die "Neue Feuerwache" "OffSpace2" werden. "OffSpace3" = Alter OEG-Bahnhof an der Kurpfalzbrücke (Kooperation mit dem Popbeauftragten Sebastian Dresel). "OffSpace4" = Veranstaltungsraum Herz-Jesu-Kirche, Zehntstraße.
Neckarstadt West
Bunker Neckarstadt West als "OffSpace10", Industriestraße: Cafe del Mar, Schuhmacher, etc.
Quadrate / Colllini
Abendakademie R3, Herschelbad U3, "Galleriehaus" U3, Collini Schwimmbad, etc.
Presseinfo
Pilotprojekt der Freien Bildenden Künste

artscout

one

 

in Mannheim beginnt im November 2009
Bekannte und unbekannte Orte neu entdecken und zugleich der aktuellen Kunst in der Metropolregion Rhein-Neckar eine Plattform schaffen, das ist der Anspruch und das Ziel des Kunstprojektes art scout one. Die Ausstellung beginnt, am 14. November und dauert bis zum 31. Dezember 2009. Sie bildet einen Parcours unterschiedlicher, speziell ausgewählter Ausstellungsflächen zwischen Industriestrasse und Schloss. Am Alten Messplatz wird eigens dafür ein Kunstpavillon aufgebaut. Auch die Neckarstadt West, die Quadrate und der Jungbusch sind in die Ausstellung einbezogen. Über 80 Künstler haben ihre Mitwirkung zugesagt. Sie zeigen unterschiedliche ästhetische und inhaltliche Zugänge zu Fragen der Gegenwart. Die künstlerischen Ausdrucksformen reichen von Bildern, Zeichnungen, über Plastiken und Objekten bis hin zu Video- und Rauminstallationen. art scout one ist ein Projekt des Kulturamts Mannheim und wurde initiiert , kuratiert und organisiert von Dr. Rolf Lauter. Es entstand im Rahmen seines Auftrages, ein Konzept zur Entwicklung der freien Szene der Bildenden Kunst zu entwickeln, den er seit seinem Dienstantritt im Kulturamt verfolgt. Das Ausstellungskonzept ist ein Projekt mit Pilotcharakter und wird, mit einer Gruppe von Förderern realisiert, welche sich in besonderer Weise der Gegenwartskunst und den Künstlern verpflichtet fühlen. "Wir sehen in der Konzeption eine großartige Chance, der Bildenden Kunst eine neue Wahrnehmung in der Öffentlichkeit zu schaffen. Das Projekt hat daher unsere volle Unterstützung. Sollte es erfolgreich verlaufen, sind wir auch an einer Perspektive über dieses Jahr hinaus sehr interessiert. Deshalb freut uns die Unterstützung privater Förderer und Sponsoren, welche die Hälfte des Etats umfasst, in dieser wichtigen ersten Phase.", erklärt die Leiterin des Kulturamts Sabine Schirra. "Eine eigene Schirmherrschaft des Oberbürgermeisters für dieses Projekt gibt es im übrigen nicht, weil dies auch bei Eigenveranstaltungen der Stadt Mannheim nicht üblich ist."
Auf die Eröffnungspressekonferenz am 12. November 2009 um 11.00 Uhr auf dem Alten Messplatz (im Kunstpavillon) wollen wir Sie in diesem Zusammenhang schon heute hinweisen.
Dr. Rolf Lauter